An impact trace describes the flow of data within and between programs in an application: how data items exchange values, use each other in computations, and so forth.
The Interactive Analyzer and Change Analyzer features will best provide the required details when we go for analysis
Interactive Analyzer
For Ex- Variable Name which you are looking for changes and analysis its traces with in the program and with in application
Interactive Analyzer -> Search Variable name ->
Look at Context, Code search , Data View can shows that variable
Double click from data View to get its traces on Impact
Then do Forward Analysis from toolbar / navigate
Get Affected Programs
The detailed Micro Focus Enterprise Analyzer can be refered form below link
https://www.microfocus.com/documentation/enterprise-analyzer/ea80/EA/GUID-FE7AE194-E9DF-49D2-90F0-BEE736199401.html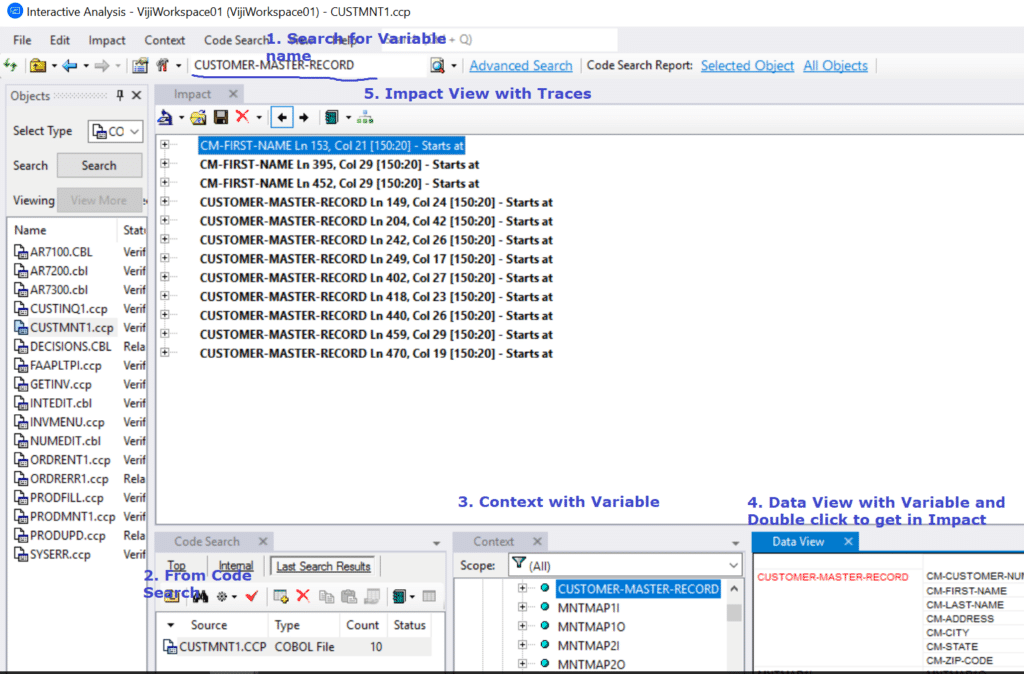 From Impact View Expand further and see how data flows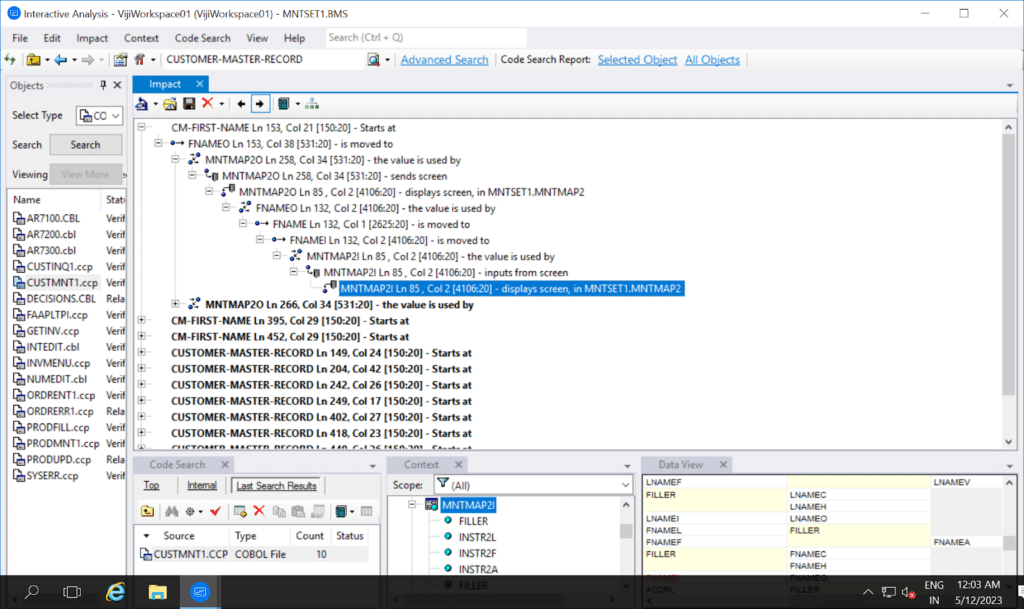 From Impact View Expand further and see how data flows with other programs too
CUSTOMER Record from ORDERR1
PRODMNT1
CUSTINQ1
CUSTMNT1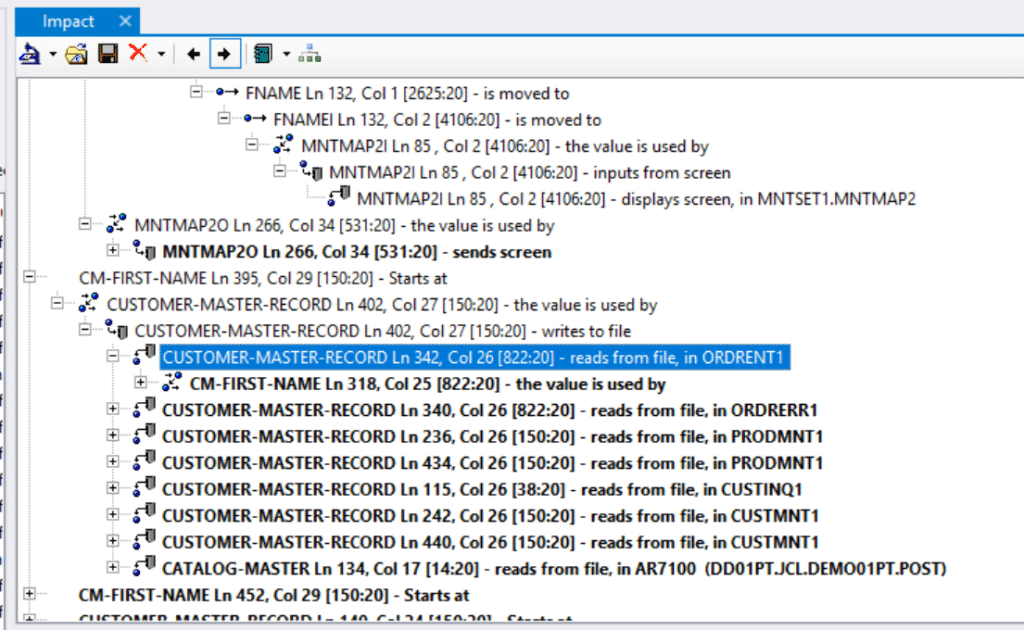 From Impact View tool bar
You can see the options for Forward and Backward analysis icon
Report Icon
For Affected Program Report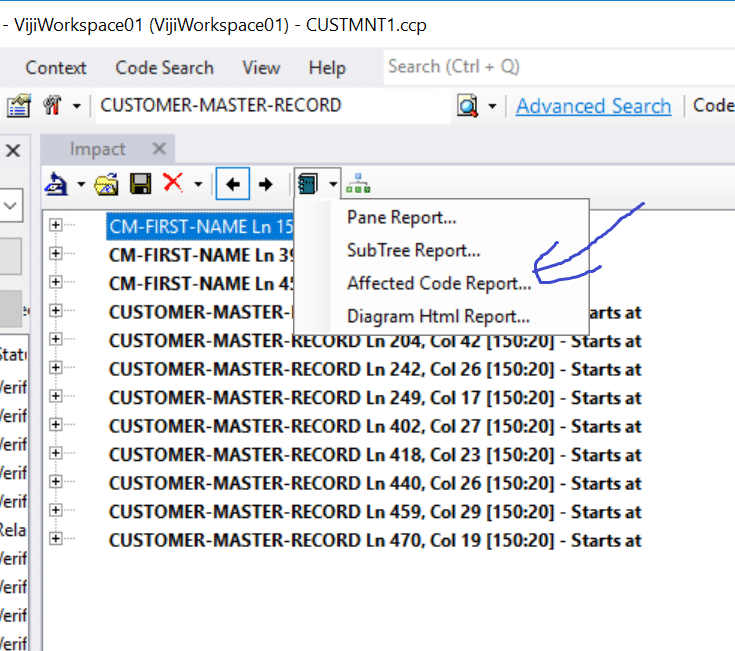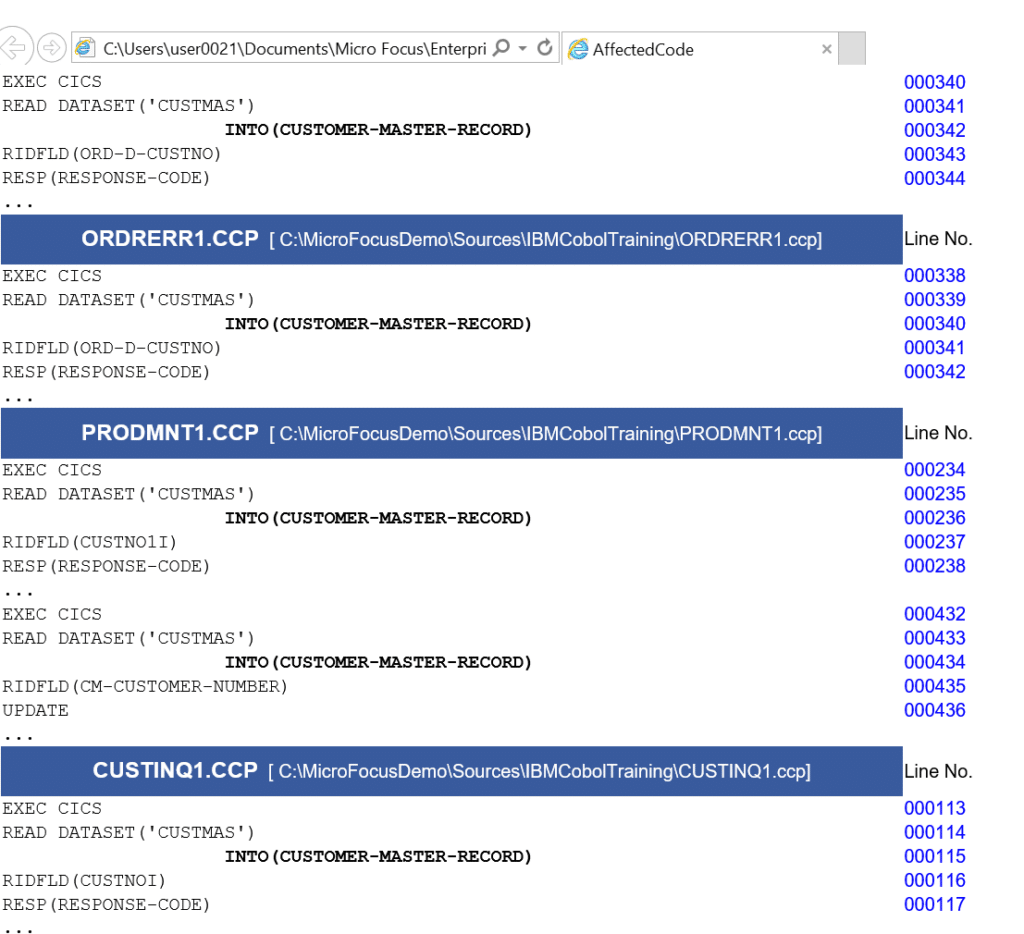 Clear content of Impact View
by red X mark on tool bar
Then Detailed Analysis for selected variable from Data View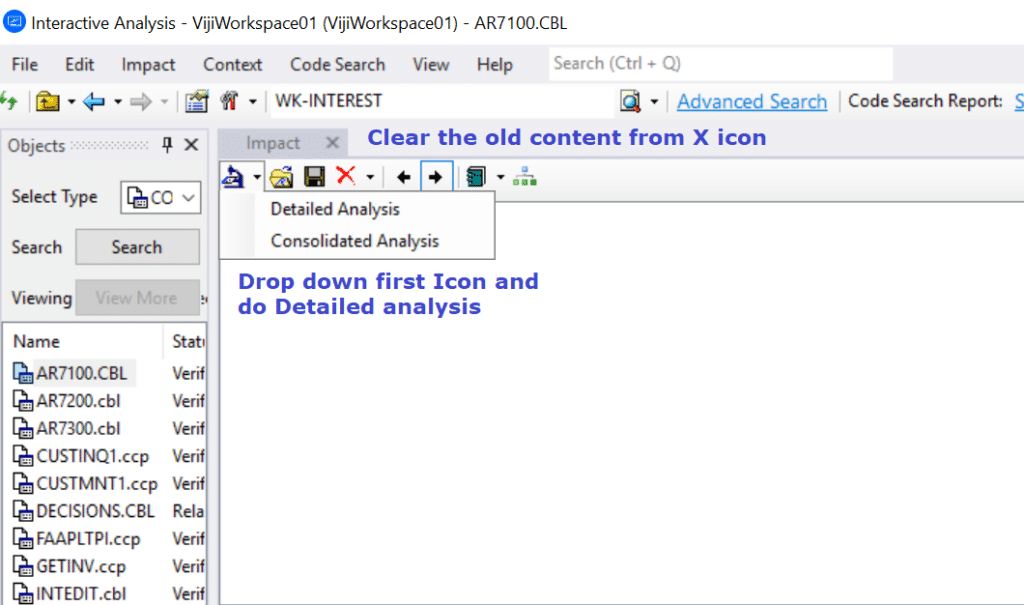 Change Analyzer
Change Analyzer identifies the class of data items used to perform a business function in a legacy application.
Lets you answer the kind of "What if?" questions posed in the past by industry-wide changes for Y2K, Zip+4, or …
What if I change the type of this variable, or the length of this field? What other fields in the class will I also have to change?
Change Analyzer will help to answer this.
It performs an impact trace that shows the flow of data to the field, and to detect and resolve program ports.
Reports showing source entities that might require modification, lines of affected code, and the like
Analysis works in two steps
Step1 – Provide the change Criteria
Steps 2 – Get the selected or whole list of affected programs
There is Report option to get affected source metrics, affected source codes, and list of segments / sources affected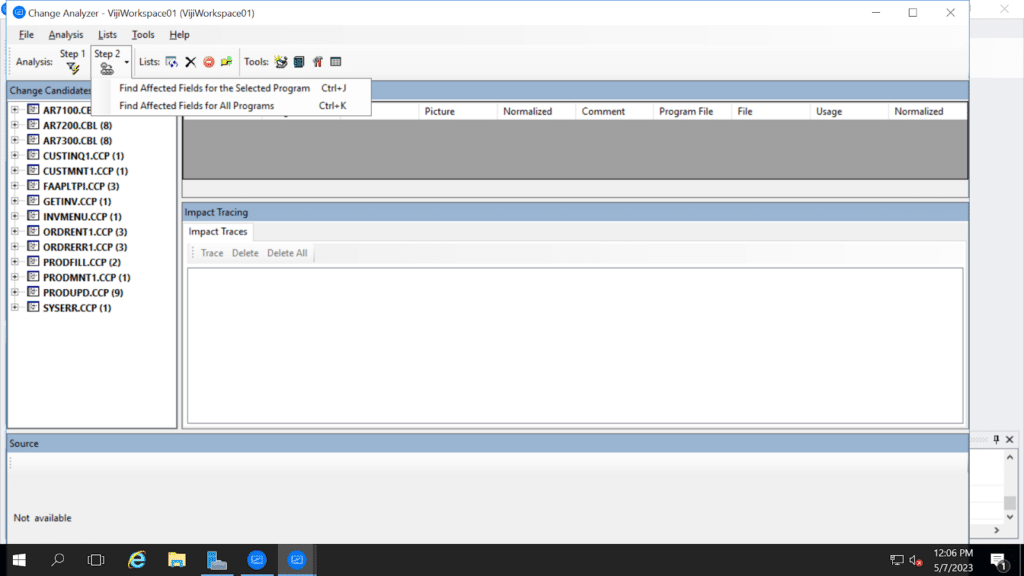 It also provide Report
Report on Selected Program
Metric Report
Report on Whole List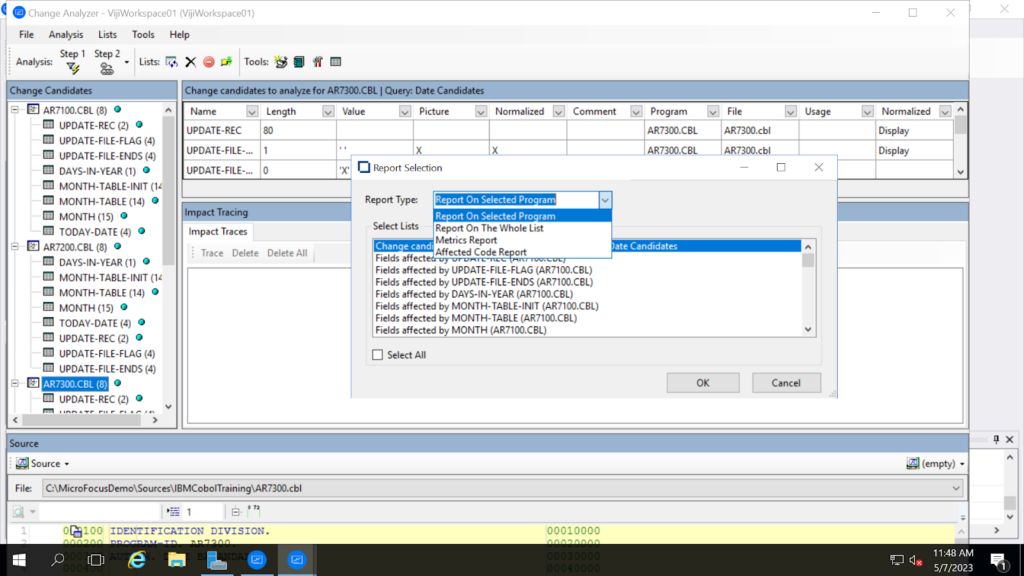 Metric report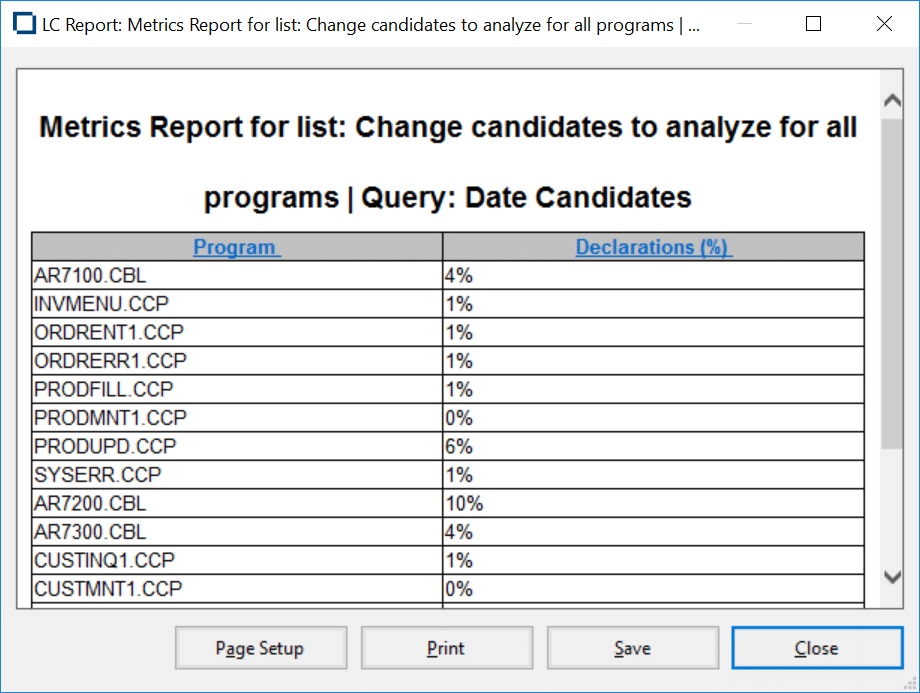 Change Candidates to analyze for all programs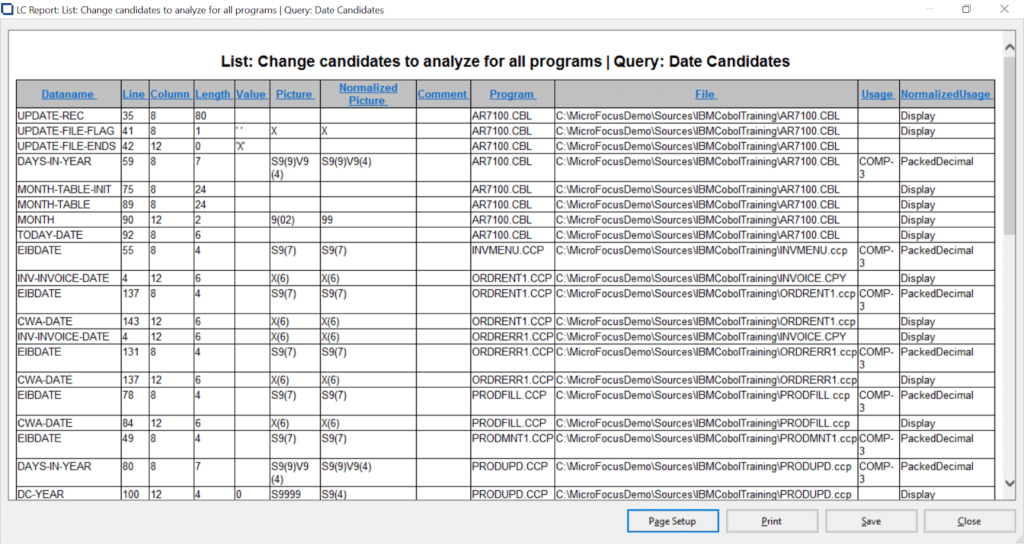 In conclusion, Enterprise Analyzer has got very good features and options to understand well Enterprise Application, Analyse and evaluate their specific needs and requirements for any Modernization or Migration initiatives.
We are experienced good implementation skills of these tools EDz, EAz, IDz, DBB, UCDz install, configure and customize and do training enablement. Rich experience in IBM Developer for z and IBM DBB Training by with content delivery of 5 days based on the coverage and team size of trainees.
We also explore other products from Heirlooms Computing, Micro Focus, Modern Systems for Application Analysis, Development IDE for Mainframe applications.
Contact us as info@vrgtechnologiesservices.com
for any Mainframe Training, Mainframe Modernization Training, Implementations, Mainframe Consulting engagements and customization projects.